Suzuka Tsukimura (月村すずか Tsukimura Suzuka) is one of Nanoha Takamachi's classmates and best friends. This is same as the background setting in Magical Girl Lyrical Nanoha, where she was originally introduced.
Personality
Edit
Suzuka is a caring and kind person.[2]
Biography
Edit
Suzuka is a 4th grade elementary school student from Private Kaisei Elementary School, Uminari City. Contrasting her gentle character and appearance, she is very good at sports.[2]
In INNOCENT (ch.1), along her classmates Nanoha Takamachi and Arisa Bunnings, she becomes a Duelist at Hobby Shop T&H.
Brave Duel Powers
Edit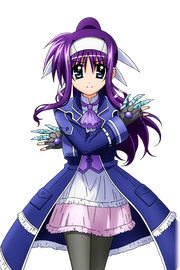 Suzuka is equipped with Snow White, basically a gloves-shaped Device, and has strong defense power.[2] Her personal card specialises in ice-based skills.
Suzuka's primary avatar is Professor type, which is specialised in supporting allies,[2] such as using defensive and detection skills. Her version mainly consists of bluish and purplish colors.
In INNOCENTS (ch.11), Suzuka performs a Rerise Unison by rerising up with a card of Arisa Bunnings, turning her Professor type avatar and Snow White into the fiery version which specialises in fire-based skills.
Besides the above, Suzuka also uses some other avatars and Devices in the game. The table below summarises the known combinations:
Avatar types
Versions/Customs
Devices used
Description
Professor
MN Purple
Snow White
Flame Eyes II [Blue]
Lucky Shooter [Ice blue]
Specialised in ice-based skills.
[Red]
Snow White [Red]
Flame Eyes
Lucky Shooter [Light red]
Modified with avatar colors of Arisa Bunnings. Specialised in fire-based skills.
[Monochrome & Gold]
Tome of the Night Sky
Schwertkreuz
Lucky Shooter [Monochrome & Gold]
Modified with avatar colors of Hayate Yagami.
Lord Of Glory
Monochrome & Gold
Tome of the Night Sky
Schwertkreuz
Snow White
Primary avatar of Hayate Yagami.
Midnight Blue
Tome of the Night Sky [Ice blue]
Schwertkreuz
Snow White
Modified with avatar colors of her own self.
Non-duel avatar
Raising Heart Ex. [Purple]
Notable skills used by Suzuka include:
References
Edit