Shamal Yagami (八神シャマル Yagami Shamaru) is originally a Wolkenritter in the primary continuity first introduced in Magical Girl Lyrical Nanoha A's. In the INNOCENT spin-off series, she becomes a family member of Hayate Yagami, originally her mistress.
Personality
Edit
Shamal is a mood maker with a breezy personality.[1]
Biography
Edit
Shamal is a student from Uminari Medical University (海鳴医科大学 Uminari Ika Daigaku). She is like the mother of the Yagami family, although she can only cook delicious meals once in a while.[1]
Shamal has not played Brave Duel until the Team Yagamidō is formed when the first Brave Duel Grand Prix approaches.
Brave Duel Powers
Edit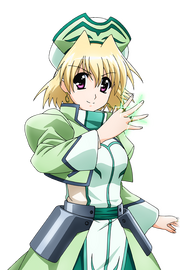 Shamal equips Klarwind, a set of rings that specialise in supportive powers, as her Device.[1] Her personal card presumably specialises in wind-based skills.
Shamal's primary avatar is High Cleric type, which is a supportive type specialised in healing and defense.[1]
References
Edit