Nanoha Takamachi (高町なのは Takamachi Nanoha) is the title heroine of Magical Girl Lyrical Nanoha INNOCENT media. Originating in the visual novel Triangle Heart 3, she became the star of her own anime series, Magical Girl Lyrical Nanoha, before appearing in the INNOCENT spin-off series.
Although not explicitly claimed by herself, Nanoha is titled in INNOCENTS (ch.2) as "Shooting-Type Magical Girl" (射撃系魔法少女 Shageki Kei Mahō Shōjo), along Vita Yagami titled as "Knight of the Iron Hammer".
Personality
Edit
Nanoha is a friendly and outgoing hard-worker, but there are times that she becomes spacey.[3]
Biography
Edit
Nanoha is a 4th grade elementary school student from Private Kaisei Elementary School, Uminari City. Although not good at sports, she knows a bit about kendo as her brother and sister are interested in and practising it.[3]
In INNOCENT (ch.1), along her classmates Suzuka Tsukimura and Arisa Bunnings, she becomes a Duelist at Hobby Shop T&H.
Brave Duel Powers
Edit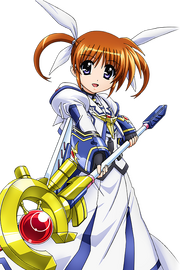 Nanoha names her Device, originally coded RH-01, as Raising Heart. Unlike Suzuka and Arisa, her personal card does not specialise in any elemental attributes, but Raising Heart comments that she has the talent of "flying in the sky."[1]
Nanoha's primary avatar is Sacred type, which is superior at defense and mobility.[3] Although not customised, the white color version of Sacred type is considered to be super rare, as commented by Vita[1] and Hayate.
In INNOCENT (ch.13), by rerising up with a Rank R card of Fate Testarossa, Nanoha performs a Rerise Unison that turns her Sacred type avatar into the Excia Black (エクシアブラック Ekushia Burakku) version,[4] which boosts speed and specialises in lightning-based skills.
Besides the above, Nanoha also uses some other avatars and Devices in the game. The table below summarises the known combinations:
Avatar types
Versions/Customs
Devices used
Description
Sacred
Sacred II
[White]
ST Blue (Exelion Mode)
Raising Heart
Sacred Heart
Lucky Shooter [Blue]
Lightning Black
Excia Black (Exelion Mode)
Raising Heart [Black]
RH Driver
Lucky Shooter [Red]
Modified with avatar colors of Fate Testarossa. Specialised in lightning-based skills.
[White] (Force-Style)
Raising Heart (Force-Style)
Strike Cannon
Fortress
Lord Of Glory
Monochrome & Gold
Schwertkreuz
Primary avatar of Hayate Yagami, wings modified with her pink energy color.
Sacred Blue
Schwertkreuz
Further modified with avatar colors of her own self.
Non-duel avatar
Snow Trident
Notable skills used by Nanoha include:
References
Edit