Kyrie Florian (キリエ・フローリアン Kirie Furōrian) is originally a Gear introduced in The Gears of Destiny. In the INNOCENT spin-off series, she becomes a high school student residing in Uminari City along her family.
Personality
Edit
By contrast to her sister Amitie Florian, Kyrie is cool, calm and cynical. She also a natural airhead (天然呆け tennen boke). She seemingly has no problems showing of her sexuality, often being depicted with an impish grin when under-dressed.
Biography
Edit
Kyrie is the younger daughter of the Florian family, studying grade 1 at Eltria Girls High School, Uminari City. She is one year younger than her sister.
In addition to being a Brave Duel player, Kyrie also plays the role of Brave Duel commenter along with her elder sister at Granz Lab.
Brave Duel Powers
Edit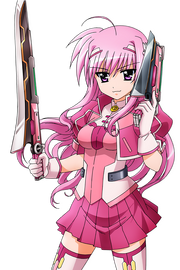 Kyrie wields the pink-framed Variant Zapper as her Device. Particularly she is good at using its claymore form named "Heavy Edge".[2]
In Brave Duel games, her position is Wide Wing.[1]
Kyrie's primary avatar is Protect Suit type,[2] and her version is colored in pink.
References
Edit