Arisa Bunnings (アリサ・バニングス Arisa Baningusu) is one of Nanoha Takamachi's classmates and best friends. This is same as the background setting in Magical Girl Lyrical Nanoha, where she was originally introduced.
Personality
Edit
Arisa is a charismatic leader with bright personality.[2] However, she is somehow realistic and unimaginative which, during Brave Duel games, restrict her from flying and makes her need to jump instead for mobility.
Biography
Edit
Arisa is a 4th grade elementary school student from Private Kaisei Elementary School, Uminari City. She is also the class officer of her class (Grade 4 Class 1).[2]
In INNOCENT (ch.1), along her classmates Nanoha Takamachi and Suzuka Tsukimura, she becomes a Duelist at Hobby Shop T&H.
Brave Duel Powers
Edit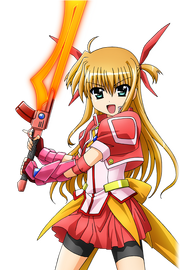 Arisa wields a backsword-shaped Device, which she names as Flame Eyes when using it in her first battle. Her personal card specialises in fire-based skills.
Arisa's primary avatar is Fencer type, which is specialised in controlling elemental swords.[2] In her case, it allows her to be proficient in fiery skills and flaming sword attacks.
In INNOCENTS (ch.11), Arisa performs a Rerise Unison by rerising up with a card of Suzuka Tsukimura, turning her Fencer type avatar and Flame Eyes into the icy version which specialises in ice-based skills.
Besides the above, Arisa also uses some other avatars and Devices in the game. The table below summarises the known combinations:
Avatar types
Customs/versions
Devices used
Description
Fencer
B Orange
Flame Eyes
Flame Eyes II
Snow Trident [Red]
Lucky Shooter [Light red]
Specialised in fire-based skills.
[MN Purple]
Flame Eyes [Blue]
Flame Eyes II [Blue]
Snow Trident
Lucky Shooter [Ice blue]
Modified with avatar colors of Suzuka Tsukimura. Specialised in ice-based skills.
Sacred
Heat Suit
Luciferion
Flame Eyes
Primary avatar of Stern Starks. Specialised in fire-based skills.
Crimson Red
Luciferion
Flame Eyes
Modified with avatar colors of her own self. Specialised in fire-based skills.
Non-duel avatar
Bardiche Zanber [Orange]
Notable skills used by Arisa include:
References
Edit