Alicia Testarossa (アリシア・テスタロッサ Arishia Tesutarossa) is the two-year-older sister of Fate Testarossa. She was originally a deceased character introduced in Magical Girl Lyrical Nanoha, in which Fate is an artificial clone of her.
Personality
Edit
Alicia is a cheerful and outgoing person easy to get along with,[2] unlike her younger sister Fate, who is more timid and introvert.
Biography
Edit
Although looks tiny, Alicia is a 6th grade elementary school student just moved to Private Kaisei Elementary School at the beginning of the series, along her 4th grade sister. She is also the draw at Hobby Shop T&H, where she always provide guidance to novice Duelists.[2]
Brave Duel Powers
Edit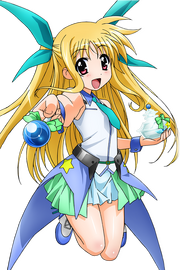 Alicia's Device is Fortune Drop, a drop pod which can further "drop" different equipment for her games, from cross range combat to long range shooting.
Alicia's primary avatar is Gunner type, on which she makes a bold original arrangement named Lucky Star (ラッキースター Rakkī Sutā). It is mainly colored in sky blue and mint green, which are her lucky colors in the game.
Besides the above, Alicia also uses some other avatars and Devices in the game. The table below summarises the known combinations:
Avatar types
Versions/Customs
Devices used
Description
Gunner
Lucky Star: AB Mint
Fortune Drop
Bardiche Riot Blade
Lucky Star: Sister Scarlet
Fortune Drop [Pink]
Modified with scarlet and pink colors.
Lucky Star: Snow Blue
Lucky Shooter [Light blue]
Modified with blue and indigo colors.
Lightning
S Red (Blaze Form)
Bardiche Zanber
Specialised in lightning-based skills.
[AB Mint] (Blaze Form)
Bardiche Zanber [Mint]
Modified with avatar colors of Alicia Testarossa.
Sacred
[White] (TOS-Style)
Raising Heart (TOS-Style)
Engage Suit (Force-Style)
Javelin
Non-duel avatar
Variant Fencer (Red Frame)
References
Edit
Ad blocker interference detected!
Wikia is a free-to-use site that makes money from advertising. We have a modified experience for viewers using ad blockers

Wikia is not accessible if you've made further modifications. Remove the custom ad blocker rule(s) and the page will load as expected.